ENRICH in LAC Innovation Tour to São Paulo (25-29 September 2023) Call for Applications
12/06/2023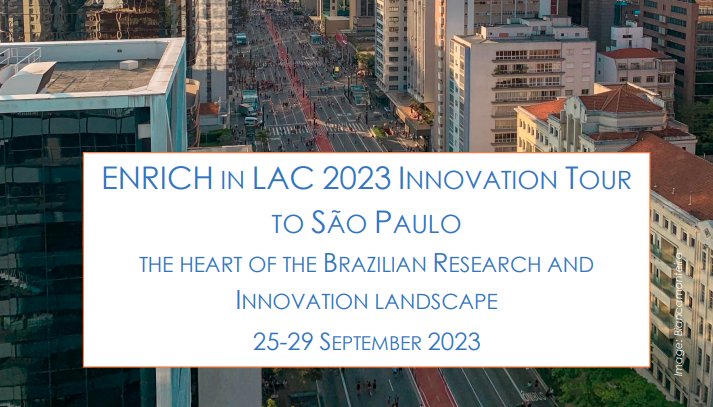 RCISD is participating in European projects trying to connect and support European innovators and entrepreneurs globally.
Funded by the European Union Horizon 2020 Programme, the on-going ENRICH in LAC and the ENRICH in the USA projects aim to promote collaborative opportunities for academia, business and innovation players of Europe and the entire American continent. The projects develop a network of centres of relevant European partners and serve the interest of all stakeholders of Horizon 2020 / Horizon Europe, the interest of the EU member states, but also the interest of the associated countries to the framework programme. The next possibility is the

ENRICH in LAC Innovation Tour to São Paulo (25-29 September 2023)  Call for Applications

The objective of the Innovation Tour 2023 is to provide an opportunity to European SMEs, startups, applied research organizations, clusters, and techno parks to get to know the Brazilian STI landscape and some of the main stakeholders in the LAC region. To explore the cutting-edge technology ecosystem in São Paulo within the defined priority fields.
Participants will have the chance to meet the major technology players in the sustainability and innovation fields and present their idea/product/service.
The Innovation Tour is a unique networking experience that connects European entrepreneurs with companies' agencies, funding organisations, and intermediaries in Brazil.

For more information, please view:ENRICH in LAC Innovation Tour 2023